March 31, 2006
Not a Country Anymore
By William Fisher

    Think about contractors in Iraq, and what's the first thing that comes to mind? Halliburton, raking in billions and overcharging taxpayers by billing the government for stuff it never delivered, and then getting bonuses for almost all its questionable charges? The Lincoln Group, paying Iraqi journalists to plant "good news" stories in the press? The Pentagon's private army of outsourced "security specialists," like Blackwater and Custer Battles, the mercenaries whose greed and shameful tactics make the CIA look like choirboys?    

 You'd be right. And wrong.   

  Wrong because what you probably don't know is that these miscreants are not the only contractors there. There is also a not-nearly-large-enough cadre of contractors who don't make millions.   

  Most of them work for USAID - the much-maligned US Agency for International Development. They are both Americans and Iraqis - Shia, Sunni, Kurd. And they work side by side every day, in an environment of chaos, fear and violence, risking their lives trying to improve the lives of ordinary Iraqis.    

 That they make any progress at all in that kind of environment is truly remarkable. But they do make progress. And that may be the only piece of legitimate "good news" coming out of what can now only be described as "not a country anymore." more...
March 30, 2006
A controversial view of current immigration debate from Thom Hartmann:

Today's Immigration Battle - Corporatists vs. Racists (and Labor is Left Behind) by Thom Hartmann  

The corporatist Republicans ("amnesty!") are fighting with the racist Republicans ("fence!"), and it provides an opportunity for progressives to step forward with a clear solution to the immigration problem facing America.

Both the corporatists and the racists are fond of the mantra, "There are some jobs Americans won't do." It's a lie.

Americans will do virtually any job if they're paid a decent wage. This isn't about immigration - it's about economics. Industry and agriculture won't collapse without illegal labor, but the middle class is being crushed by it.

The reason why thirty years ago United Farm Workers' Union (UFW) founder Caesar Chávez fought against illegal immigration, and the UFW turned in illegals during his tenure as president, was because Chávez, like progressives since the 1870s, understood the simple reality that labor rises and falls in price as a function of availability. more...
March 29, 2006
Judge Rules Teachers Have No Free Speech Rights in Class
by Matthew Rothschild

Here's an update on Deb Mayer, the teacher who said her contract was not renewed because she answered a student's question about whether she would participate in a demonstration for peace.

Her case involves an incident that occurred on January 10, 2003, at Clear Creek Elementary School in Bloomington, Indiana.

The students were reading an article in Time for Kids about peace protests. She responded to the student's question by saying she sometimes honks for peace and that it's important to seek out peaceful solutions both on the playground and in society. Afterwards, the parents of one of the students got angry and insisted that she not speak about peace again in the classroom. Mayer's principal so ordered her.

When the school district did not renew Mayer's contract at the end of the semester, she sued for wrongful termination and for violation of her First Amendment rights.

On March 10, Judge Sarah Evans Barker dismissed Mayer's case, granting summary judgment to the defendants.

The judge said the school district was within its rights to terminate Mayer because of various complaints it received from parents about her teaching performance.

But beyond that, Judge Barker ruled that "teachers, including Ms. Mayer, do not have a right under the First Amendment to express their opinions with their students during the instructional period.š more...

**********

Pillaging the Treasury and the Constitution
Bush is No Conservative
By PAUL CRAIG ROBERTS

President Bush passes himself off as a conservative Republican and a born-again Christian. These are disguises behind which Bush hides. Would a Christian invade another country on false pretenses, kill tens of thousands of innocent civilians, and show no remorse or inclination to cease the aggression?

Long-time Republican policy-wonk Bruce Bartlett recently published a book, Impostor, in which he proves that President Bush is no economic conservative, having broken all records in spending taxpayers' money and running up public debt.

Were Bush merely another big spender, his presidency wouldn't differ from other pork barrel administrations, but Bush's radicalism goes far beyond spending. Bush supports outsourcing American jobs, and he has taken an irreverent approach to the U.S. Constitution.

Bush bears no resemblance to a political conservative. A political conservative does not confuse government with country. Patriotism means loyalty to country. Bush, however, demands allegiance to his government: "You are with us or against us!" Critics of the Bush administration are branded "unpatriotic" and even "treasonous."

Loyalty to country means allegiance to the Constitution, the Bill of Rights and the separation of powers. It does not mean blind support for a president, an administration, or a political party. Pillaging the Treasury and the Constitution
March 28, 2006
FBI Keeps Watch on Activists
By Nicholas Riccardi    

Antiwar, other groups are monitored to curb violence, not because of ideology, agency says.

    Denver - The FBI, while waging a highly publicized war against terrorism, has spent resources gathering information on antiwar and environmental protesters and on activists who feed vegetarian meals to the homeless, the agency's internal memos show.   

  For years, the FBI's definition of terrorism has included violence against property, such as the window-smashing during the 1999 Seattle protests against the World Trade Organization. That definition has led FBI investigations to online discussion boards, organizing meetings and demonstrations of a wide range of activist groups. Officials say that international terrorists pose the greatest threat to the nation but that they cannot ignore crimes committed by some activists.   

  "It's one thing to express an idea or such, but when you commit acts of violence in support of that activity, that's where our interest comes in," said FBI spokesman Bill Carter in Washington.  

   He stressed that the agency targeted individuals who committed crimes and did not single out groups for ideological reasons. He cited the recent arrest of environmental activists accused of firebombing an unfinished ski resort in Vail. "People can get hurt," Carter said. "Businesses can be ruined."   

  The FBI's encounters with activists are described in hundreds of pages of documents obtained by the American Civil Liberties Union under the Freedom of Information Act after agents visited several activists before the 2004 political conventions. Details have steadily trickled out over the last year, but newly released documents provide a fuller view of some FBI probes.   

  "Any definition of terrorism that would include someone throwing a bottle or rock through a window during an antiwar demonstration is dangerously overbroad," ACLU staff attorney Ben Wizner said. "The FBI will have its hands full pursuing antiwar groups instead of truly dangerous organizations."    

 ACLU attorneys say most violence during demonstrations is minor and is better handled by local police than federal counterterrorism agents. They say the FBI, which spied on antiwar and civil rights leaders during the 1960s, appears to be investigating activists solely for opposing the government. more...
March 27, 2006
Bush Makes Iraq the Vital Reason for His Impeachment and Removal
by Harvey Wasserman  

George W. Bush has clarified the most vital reason why he must be impeached and removed from office as soon as possible: the slaughter in Iraq, and his clear statement that it will not end while he is in the White House.

Bush has made his departure the light at the end of the tunnel.

If he stays, more killing is inevitable. If he goes, a quicker end to the war is not certain, but it is more likely. Nobody expects Dick Cheney to pull out of Iraq if he succeeds Bush. But a successful impeachment and removal will reshape all American politics, and open up the possibilities.

Bush's escalating unpopularity has moved impeachment talk out of the margins, toward the mainstream. Increasingly worried GOP hacks portray it as an attack on Bush's ability to protect the country, and on our soldiers.

But polls now show a majority of US troops in Iraq say the war should end in 2006, not 2009. More than 80% of the Iraqi people want the US out now.

By pledging to prolong the slaughter, Bush endangers both our troops and our national security. more...
March 26, 2006
More Than 500,000 Rally in L.A. for Immigrants' Rights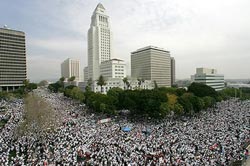 Hundreds of thousands protest against House-passed HR 4437, an anti-immigration bill that opponents say will criminalize millions of immigrant families and anyone who comes into contact with them. (Bob Chamberlin / LAT) Mar. 25, 2006
**********
Bush's Divorce from Reality
Impeachment or Resignation: Pick Your Poison
By Ralph Nader

Attention please, good people! Adjust your routines and come to the aid of your country, and your children with your thoughtful patriotism. Don't just hope for impeachment, demand the resignation now of the mad hatters in the White House--George W. Bush and Richard Cheney.

Already, a large majority of you do not consider this shifty duo trustworthy. By more than two to one you disapprove of Bush's war in Iraq. Similar majorities believe this is also a President whose administrative incompetence--note the post-Katrina debacles compared to his promises last September in that devastated New Orleans--nearly matches his penchant for daily fabrications.

The precipitous drop in Bush's polls (Cheney's are even lower) is not coming from liberals who long ago registered negative in these national surveys. The drop is coming from millions of erstwhile Bush supporters, Bush voters, Bush-loving conservatives. more...
March 25, 2006
"U.S. Authorities Say..."
All the News That's Fit to Slant
By ROBERT FISK

It is a bright winter morning and I am sipping my first coffee of the day in Los Angeles. My eye moves like a radar beam over the front page of the Los Angeles Times for the word that dominates the minds of all Middle East correspondents: Iraq. In post-invasion, post-Judith Miller mode, the U.S. press is supposed to be challenging the lies of this war. So the story beneath the headline "In a Battle of Wits, Iraq's Insurgency Mastermind Stays a Step Ahead of U.S." deserves to be read. Or does it?

Datelined Washington -- an odd city in which to learn about Iraq -- its opening paragraph reads: "Despite the recent arrest of one of his would-be suicide bombers in Jordan and some top aides in Iraq, insurgency mastermind Abu Musab Zarqawi has eluded capture, U.S. authorities say, because his network has a much better intelligence-gathering operation than they do." Now quite apart from the fact that many Iraqis -- along with myself -- have grave doubts about whether Zarqawi exists, and that al-Qaida's Zarqawi, if he does exist, does not merit the title of "insurgency mastermind," the words that caught my eye were "U.S. authorities say." And as I read through the report, I note how the Times sources this extraordinary tale. I thought U.S. reporters no longer trusted the U.S. administration, not after the mythical WMD and the equally mythical connections between Saddam and the international crimes against humanity of 9/11. Of course, I was wrong. more...
(Click on icons to see larger images.)


March 31, 2006




March 30, 2006



March 29, 2006




March 28, 2006



March 27, 2006
(animation - 116k)




March 26, 2006




March 25, 2006


Archives
August 21, 2004 - August 19, 2005
August 20, 2005 - August 26, 2005
August 27, 2005 - September 2, 2005
September 3, 2005 - September 9, 2005
September 10, 2005 - September 16, 2005
September 17, 2005 - September 23, 2005
September 24, 2005 - September 30, 2005
October 1, 2005 - October 7, 2005
October 8, 2005 - October 14, 2005
October 15, 2005 - October 21, 2005
October 22, 2005 - October 28, 2005
October 29, 2005 - November 4, 2005
November 5, 2005 - November 11, 2005
November 12, 2005 - November 16, 2005
November 26, 2005 - December 2, 2005
December 3, 2005 - December 9, 2005
December 10, 2005 - December 16, 2005
December 17, 2005 - December 23, 2005
December 24, 2005 - December 30, 2005
December 31, 2005 - January 6, 2006
January 7, 2006 - January 13, 2006
January 14, 2006 - January 20, 2006
January 21, 2006 - January 27, 2006
January 28, 2006 - February 3, 2006
February 4, 2006 - February 10, 2006
February 11, 2006 - February 17, 2006
February 18, 2006 - February 24, 2006
February 25, 2006 - March 3, 2006
March 4, 2006 - March 10, 2006
March 11, 2006 - March 17, 2006
March 18, 2006 - March 24, 2006
No War in Iraq march.
San Francisco, Ca., January 18, 2003
San Francisco, Ca., February 16, 2003



Home

This site consists of original photographs and composites by Fletcher Oakes, unless otherwise credited.

photoblogring | Join | Random | List