February 17, 2006
Their Own Economic Reality
By PAUL CRAIG ROBERTS

...American "manufacturersš are becoming merely marketers of foreign made goods. The CEOs and shareholders have too short a time horizon to understand that once foreigners control the manufacture-design- innovation process, they will bypass American brand names. US companies will simply cease to exist.

Norm Augustine, former CEO of Lockheed Martin, says that even McDonald's jobs are no longer safe. Why pay an error-prone order-taker the minimum wage when McDonald's can have the order transmitted via satellite to a central location and from there to the person preparing the order. McDonald's experiment with this system to date has cut its error rate by 50% and increased its throughput by 20 percent. Technology lets the orders be taken in India or China at costs below the minimum wage and without the liabilities of US employees.

Americans are giving up their civil liberties because they fear terrorist attacks. All of the terrorists in the world cannot do America the damage it has already suffered from offshore outsourcing. more...
February 16, 2006
Complete Dateline segment from Australian TV, showing the horror that the Bush regime has tried so hard to cover up at Abu Ghraib. There is an extensive interview with ACLU attorney, AMRIT SINGH, new photos, and an emphasis on the fact that only low ranking individuals have been punished, and that high ranking officials have not been held accountable.

**********

 34-Day Fast to End the Iraq War Launched Today
    Wednesday 15 February 2006

    Chicago - A 34-day, liquids-only fast to end the war against and occupation of Iraq will begin in Washington, DC, on February 15. Fast participants will consume only water or juice, and will maintain a daily vigil at the US Capitol, lobby members of Congress and conduct sit-ins at key Congressional offices. The start and end dates of the fast commemorate the third anniversary of worldwide protests against the invasion of Iraq, and the date of the US invasion. The activities are part of growing grassroots opposition to economic and military warfare against Iraq.

    Five peace activists will conduct the 34-day fast in Washington as part of a series of activities called the "Winter of Our Discontent" focusing on ending the US occupation of Iraq. Citing the destruction caused by 15 years of economic and military warfare waged against that country, they seek a commitment from the US to provide full funding for the reconstruction of Iraq. These objectives stand in sharp contrast to the agenda of the Bush Administration which is seeking an additional $120 billion to fund the wars in Iraq and Afghanistan while announcing that it will seek no additional funds for Iraq reconstruction. more...
February 15, 2006
Popular Ohio Democrat Drops Out of Race, and Perhaps Politics
By IAN URBINA

Paul Hackett, an Iraq war veteran and popular Democratic candidate in Ohio's closely watched Senate contest, said yesterday that he was dropping out of the race and leaving politics altogether as a result of pressure from party leaders.

Mr. Hackett said Senators Charles E. Schumer of New York and Harry Reid of Nevada, the same party leaders who he said persuaded him last August to enter the Senate race, had pushed him to step aside so that Representative Sherrod Brown, a longtime member of Congress, could take on Senator Mike DeWine, the Republican incumbent.

Mr. Hackett staged a surprisingly strong Congressional run last year in an overwhelmingly Republican district and gained national prominence for his scathing criticism of the Bush administration's handling of the Iraq War. It was his performance in the Congressional race that led party leaders to recruit him for the Senate race. more...

**********

Media overlook unanswered questions and inconsistencies in Cheney shooting disclosure

In recent days, media reporting on the delay between when Vice President Dick Cheney accidentally shot one of his hunting partners and the public disclosure of that information have overlooked unanswered questions and inconsistent accounts of how the incident was revealed to the press. Many media outlets have uncritically repeated the White House claim that the Vice President's Office was solely responsible for the delayed announcement of the accident, without noting that White House senior adviser Karl Rove discussed the accident with his longtime friend Katharine Armstrong, the host of the hunting expedition, the night before she disclosed it to a Corpus Christi, Texas, newspaper. Other media reported that Armstrong said she conferred with Cheney before disclosing the story but failed to note that this account conflicts with initial reports that Armstrong said Cheney was not aware that she was going to contact the local media. more...
February 14, 2006
EPA Warns Of Dangerous Levels Of Romance In Air

WASHINGTON, DCųResponding to a dramatic increase in cases of starry-eyed gazing and spontaneous poetry, the Environmental Protection Agency issued a general health warning Tuesday for hazardous levels of atmospheric romance across the entire North American continent.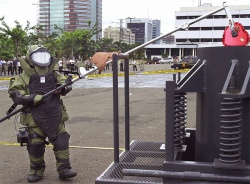 A Los Angeles police officer disposes of hazardous, romantic waste. more...

**********

Not From The Onion:
CIA chief sacked for opposing torture
by Sarah Baxter and Michael Smith, Washington

The CIA's top counter-terrorism official was fired last week because he opposed detaining Al-Qaeda suspects in secret prisons abroad, sending them to other countries for interrogation and using forms of torture such as "water boardingš, intelligence sources have claimed.

Robert Grenier, head of the CIA counter-terrorism centre, was relieved of his post after a year in the job. One intelligence official said he was "not quite as aggressive as he might have beenš in pursuing Al-Qaeda leaders and networks.

Vincent Cannistraro, a former head of counter-terrorism at the agency, said: "It is not that Grenier wasn't aggressive enough, it is that he wasn't őwith the programme'. He expressed misgivings about the secret prisons in Europe and the rendition of terrorists.š

Grenier also opposed "excessiveš interrogation, such as strapping suspects to boards and dunking them in water, according to Cannistraro. more...
February 13, 2006
A Sheep-Like Nation is Allowing Bush to Erode Our Liberties and Well-Being
by Bruce Mulkey  

"If this were a dictatorship, it'd be a heck of a lot easier, just so long as I'm the dictator.š
ų President George W. Bush, Dec. 18, 2000

"As nightfall does not come at once, neither does oppression. In both instances, there is a twilight when everything remains unchanged. And it is in such twilight that we all must be most aware of change in the air ų however slight ų lest we become unwitting victims of the darkness.š
ų Supreme Court Justice William O. Douglas

What is it going to take for the American people to wake up to the presidential coup d'état that is now under way, a takeover that is occurring in broad daylight by a president who has declared that as commander in chief he has unfettered power to fight an undeclared and never-ending war on terrorism, even if that means ignoring the courts, disregarding laws passed by Congress and circumventing the Bill of Rights in the process? more...
February 12, 2006
from Baghdad Burning
... I'll meet you 'round the bend my friend, where hearts can heal and souls can mend...  

The Raid...
...we were all assembled in the living room. The house was dark except for the warm glow of the kerosene heater and a small lamp in the corner. We were all dressed and waiting nervously, wrapped in blankets. T. and I sat on the ground while my aunt and her husband sat on the couch, B. wrapped in a blanket between them. J. was sitting in an armchair across from them. It was nearly 4 am.

Meanwhile, the noises outside had gotten louder as the raid got closer. Every once in a while, you could hear voices calling out for people to open a door or the sharp banging of a rifle against a door.

Last time they had raided my aunts area, they took away four men on their street alone. Two of them were students in their early twenties- one a law student, and the other an engineering student, and the third man was a grandfather in his early sixties. There was no accusation, no problem- they were simply ordered outside, loaded up into a white pickup truck and driven away with a group of other men from the area. Their families haven't heard from them since and they visit the morgue almost daily in anticipation of finding them dead. more...
February 11, 2006
Forget Iran, Americans Should be Hysterical About This

Nuking the Economy
By PAUL CRAIG ROBERTS

Last week the Bureau of Labor Statistics re-benchmarked the payroll jobs data back to 2000. Thanks to Charles McMillion of MBG Information Services, I have the adjusted data from January 2001 through January 2006. If you are worried about terrorists, you don't know what worry is.

Job growth over the last five years is the weakest on record. The US economy came up more than 7 million jobs short of keeping up with population growth. That's one good reason for controlling immigration. An economy that cannot keep up with population growth should not be boosting population with heavy rates of legal and illegal immigration.

Over the past five years the US economy experienced a net job loss in goods producing activities. The entire job growth was in service-providing activities--primarily credit intermediation, health care and social assistance, waiters, waitresses and bartenders, and state and local government.

US manufacturing lost 2.9 million jobs, almost 17% of the manufacturing work force. The wipeout is across the board. Not a single manufacturing payroll classification created a single new job. more...
(Click on icons to see larger images.)


February 17, 2006




February 16, 2006




February 15, 2006




February 14, 2006




February 13, 2006




February 12, 2006




February 11, 2006


Archives
August 21, 2004 - August 19, 2005
August 20, 2005 - August 26, 2005
August 27, 2005 - September 2, 2005
September 3, 2005 - September 9, 2005
September 10, 2005 - September 16, 2005
September 17, 2005 - September 23, 2005
September 24, 2005 - September 30, 2005
October 1, 2005 - October 7, 2005
October 8, 2005 - October 14, 2005
October 15, 2005 - October 21, 2005
October 22, 2005 - October 28, 2005
October 29, 2005 - November 4, 2005
November 5, 2005 - November 11, 2005
November 12, 2005 - November 16, 2005
November 26, 2005 - December 2, 2005
December 3, 2005 - December 9, 2005
December 10, 2005 - December 16, 2005
December 17, 2005 - December 23, 2005
December 24, 2005 - December 30, 2005
December 31, 2005 - January 6, 2006
January 7, 2006 - January 13, 2006
January 14, 2006 - January 20, 2006
January 21, 2006 - January 27, 2006
January 28, 2006 - February 3, 2006
February 4, 2006 - February 10, 2006
No War in Iraq march.
San Francisco, Ca., January 18, 2003
San Francisco, Ca., February 16, 2003
Klezmatics
Klezmatics concert photos. (These are uncorrected straight out out of the camera)

On April 3, 2005, Barbara and I went to see the Klezmatics, with guest Joshua Nelson, Jewish gospel singer. To quote the concert program, "Their soul-stirring Jewish roots music recreates klezmer in arrangements and compostions that combine Jewish identity and mysticism with a contemporary zeitgeist and a postmodern aesthetic. Since their founding in New York City's East Village in 1986, the Klezmatics have celebrated the ecstatic nature of Yiddish music with works by turn wild, spiritual, provocative, reflective and danceable." The concert was phenomenal.

Home

This site consists of original photographs and composites by Fletcher Oakes, unless otherwise credited.

photoblogring | Join | Random | List